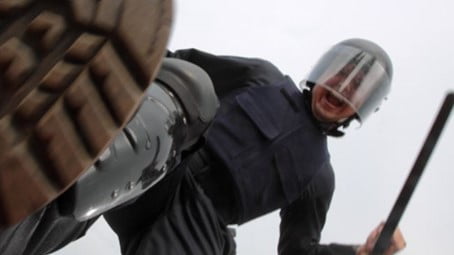 The murder of George Floyd in broad daylight by police was disturbing to watch. I don't know how anyone can watch that and not feel the weight of the boot of police state we are in. Nonetheless, the mainstream media quickly went to race-baiting while other tyrant cops backed up the murderer by protecting his house from protestors.
We live under the boot of tyranny. The cops have chosen their side. They are siding with the ruling class elitists, the cabal, the politicians. They do not protect and serve us, they never will. They are getting paid with money stolen from us against our will to make sure the demands of the rulers are obeyed. That means they will commit any level of violence to keep us in line, as evidenced by the killing of George Floyd.
Fifty or more police officers stood guard at the murders house as protestors, who were demanding justice, descended on the sub-human abomination that snuffed out Floyd's life. They have chosen their side, and it isn't' the side of liberty, or freedom, or peace, or justice. Imagine what kind of a world we would live in if the police actually stood up like for freedom, not murder. Imagine what kind of world this would be if the police stood up to the tyrants in Washington D.C. and didn't side with the sociopaths anymore.
David Icke To LEOs & Military: "Look Your Children In The Eye" & Tell Them YOU Enforced Tyranny
The mainstream media made sure they did their due diligence when "reporting" on the murder too. They made sure to make it a point that a white cop killed a black man. While true, they intentionally are seeking to divide us by race. When will we realize that we are all the same race? The human race. That doesn't give any cop, who is just a human, the right to kill with impunity. I don't care what color the cop was or what color Floyd was. A man was murdered by an agent of the state who was "just following orders." Now, are people starting to understand why it's beyond time to disobey the government?
And to those who think Floyd committed a crime, he ALLEGEDLY used a fake $20 bill. Anyone who thinks death is justified over that had better do some research into the Federal Reserve and where their stimulus payment came from. The central banks of the world print money out of thin air all the damn time and no one is upset about that.
Then, of course, were the looting and riots, which were also disturbing. The places being looted and destroyed had no part in Floyd's murder. They played no role. They are innocent. Destruction of innocence, which is exactly what happened to Floyd cannot be fixed by more destruction of innocence. Are the police to blame? 100 percent. But the stores that were ruined were innocent. You cannot snuff out evil by destroying the property of the innocent.
We need to unite as one race, the human race, against these monsters in costumes that go out and do the bidding of tyrants. The mainstream media needs us to see race in this incident because it's yet one more thing they can divide us on. Instead, we should see the truth: an agent of the state murdered an innocent man. That should be enough. Color shouldn't matter.
Don't let the media divide us. Right and wrong have no color.
I hope those who are rioting can stop destroying and stealing the property of those not responsible for Floyd's death. I hope those who still think we aren't living in a police state will open their eyes. I hope the cops around the world will see this, and understand the huge role they are playing in the New World Order totalitarian takeover. I hope this is a turning point when we can all come together and say "enough is enough," and finally be able to see that the problem is now, and has been, "authority" or the ruling class.
We don't need them. They need us. Withdraw your consent to be ruled and governed. Stand against murder and tyranny. We are the power, and what truly scares the establishment is not some politician, it's us, all of us, united together against them.
"Injustice anywhere is a threat to justice everywhere. We are caught in an inescapable network of mutuality, tied in a single garment of destiny. Whatever affects one directly, affects all indirectly."― Martin Luther King Jr., Letter from the Birmingham Jail
The best thing any of us can do is break the indoctrination and the mental chains we've been put in. It's tough enough because we've all be taught to be good order following slaves. But something that can make it just a little easier, is reading Larken Rose's Most Dangerous Superstition
. This book changed my life and it was a wake-up call.
The primary threat to freedom and justice is not greed, or hatred, or any of the other emotions or human flaws usually blamed for such things. Instead, it is one ubiquitous superstition that infects the minds of people of all races, religions, and nationalities, which deceives decent, well-intentioned people into supporting and advocating violence and oppression. Even without making human beings one bit more wise or virtuous, removing that one superstition would remove the vast majority of injustice and suffering from the world.