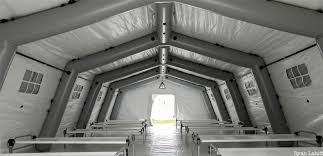 Another field hospital has been dismantled after treating exactly zero patients during the COVID-19 scamdemic. The $21 million hospital was apparently all for show, smoke in mirrors, as not one single patient needed it.
The Brooklyn field hospital, authorized by Mayor Bill de Blasio's administration at a cost of approximately $21 million, closed without seeing one patient. The Brooklyn Cruise Terminal in Red Hook was one of several sites across the city to be converted into a medical facility to try to manipulate the public into more fear. While the plan in Red Hook was announced on March 31, one day after the U.S Navy hospital ship Comfort arrived in New York Harbor, the facility did not open until May 4, according to Pennlive.
Army's Seattle Field Hospital Closed After 3 Days & Without Seeing A Single Patient
These hospitals were most likely set up just to show the public that they should be living in a state of fear and be subjected to utter tyranny because of it.
Luckily, people all over the world have be documenting the lies from politicians, bankers, and the mainstream media during this scamdemic.
MSM EXPOSED: Independent People Uncover COVID-19 Lies
The majority of people know they are being lied to and that this has all been a gigantic hoax perpetrated on the public. The real question remains where we go from here. Do we continue to allow ourselves to be slaves to the ruling class elitists? Or do we declare ourselves free human beings, capable of running our own lives without government interference?
What's important to know, is that you are not alone.
More people than you think are awakening to the truth that government is simply control over the public and nothing more. It are not there to help us, have never protected our rights, and will steal from us and kill us if we dare to disobey. Politicians and cops are also just humans. They aren't better than us, and we should have never allowed them any power over us in any capacity.
The Great Awakening: Our Future Will Be One of Liberty, Freedom, and Peace