This article was contributed by James Davis with Future Money Trends.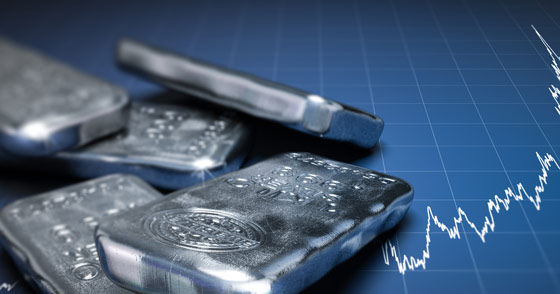 On August 15th, 1971, President Nixon changed the MONETARY LANDSCAPE forever. For the first time in human history, following his televised announcement, the entire global economy shifted from currencies that are BACKED BY GOLD to ones backed by NOTHING BUT AIR!
It was so evident that gold WOULD SOAR that some investors made fortunes so large that they still LIVE OFF THEM today.
In JUST ONE DECADE, gold's price rose from $35 to $850 per ounce, and that type of return has NEVER MATERIALIZED again in gold. In 2000, gold ended a 20-year bear market and SOARED AGAIN, but not by 2,400% because it couldn't.
You can't RECREATE the initial big bang of the universe, metaphorically speaking; it's physically and mathematically IMPOSSIBLE to start anew.
It's unfair to those of us who WEREN'T THERE in 1971 to capitalize on this. We never know how much we would have RISKED on gold and would have gained.
In 2009, the price of silver WENT BALLISTIC and climbed from around $9/ounce to eventually reclaim its 1980 all-time high of $49/ounce. A year before, in 2008, though, while the banking sector was in shambles, one of the failing banks supposedly had to sell its silver position, causing the price to go from $21 to $8 in NO TIME.
This was the precursor that birthed the opportunity position in silver as it WENT PARABOLIC.
Silver stocks didn't just climb by double-digits, and not even by triple-digits. Many of them SHOT UP by QUADRUPLE-DIGITS in three years.
Warren Buffett is FAMOUS FOR hating on gold. He simply doesn't get it, and while he is one of the best BUSINESS EVALUATORS ever, perhaps the greatest, he is a POOR DIVERSIFIER of funds out of stocks, which is why he has probably MISSED OUT on $100B or more just in the past 20 years alone.
Buffett always keeps plenty of cash around, but instead of SPREADING HIS LIQUID ASSETS between gold and silver, for example, he has kept it mostly in Treasury bonds.
Just since the year 2000, his dollar CASH PILE, money devoted to staying liquid and handy for use during market crashes and buying undervalued stocks, has lost much of its purchasing power while gold has JUMPED from $250/ounce to $1,750 TODAY.
That's a 700% gain, and it is a TREMENDOUS loss for his shareholders, which could have heard about how the company's pile of cash is GROWING RAPIDLY at each annual shareholder meeting, instead of getting excuses like that you can't teach an old dog new tricks.
Buffett simply has not taken the time to UNDERSTAND THE FLAWS of fiat currencies. We can see this because his opinion on Bitcoin is that it is worthless, while the cryptocurrency has led to remarkable returns.
Contrary to his notions, we NOT ONLY take pride in being the FIRST NEWSLETTER to ever cover Bitcoin, to our knowledge, when its price was $13/coin, but we kept on covering it until late in 2017 when at $10,000/coin, we warned that this was a bubble and that PROFITS WERE TO BE TAKEN.
Throughout 2017, Wall Street tycoons blew off Bitcoin, most famously Jamie Dimon, CEO of JPMorgan Chase, who attacked the cryptocurrency.
Buffett has been wrong on it, Wall Street totally missed it from 2013 and onwards, and only in 2020 do we see people like Robert Kiyosaki and billionaire investor Paul Tudor Jones understanding the TRUE POTENTIAL.
The Federal Reserve is PUSHING AHEAD with aggressive ETF purchases and DEBT MONETIZATION on behalf of the Federal Government. June is going to be one of the most CENTRALLY-ASSISTED months in U.S. history. The deficit is getting out of hand and the S&P 500 is kissing 3,000 again.
The point is that in order to HEDGE these expensive bonds and stocks, investors MUST turn to gold.
EXCLUSIVE REPORTS, Featured In This Article and in Others, Which Are Considered ESSENTIAL READING: